News

Major Release!
Big exciting Feature! Custom Theme Builder (i.e., custom color selection per Panel and per Tile Intention - not "per Thing" or "per Tile" or "per Tileset"). Includes the ability to copy the built-in ActionTiles Themes or your own existing Themes as a starting point, export and import Themes as a JSON clip in plain-text (or a downloaded .json file) for sharing with fellow Customers.
A Theme is of a set of colors for the Panel background, Tileset Titles, and the elements of Tiles for each of the 4 Tile Intentions. Themes may contain more properties in future versions.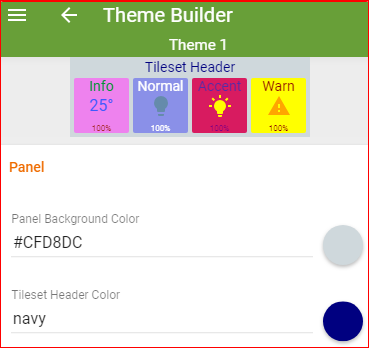 ---
Changes
Custom Theme Builder.
Capability "Voltage Measurement" added. Full list of compatible SmartThings Capabilities here.
Carbon Monoxide, Smoke Detector: treat "tested" state the same as "clear".
PIN Code Pad appearance, Input (Tap) progress indicator, and improved performance.
Inter-panel fade animation changed to black (no white flash when using Panel Shortcut Tiles).
Other various performance improvements and bug fixes throughout the app.
---
We will update various open "Bug & Idea Topics" soon if their status has been affected.

Let us know what you think of Custom Theme Building and the other features and tweaks in this Release.
Thank-you from your ActionTiles team...
...Terry & Alex.