Questions & Discussions

Thought I would make a topic for known working sites for everyone to add to their ActionTile panels.  I'll start off with:
* fast.com - internet speed test
  -simple and works, just use fast.com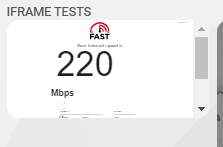 * windy.com - beautiful weather map with wind streams, radar etc
  -set the view you like, then use the top left menu at windy.com, select "embed widget in page".   When you paste into ActionTiles, delete the html tags so you end up with only the long URL between quotes following src=.  If you get this incorrect, ActioNTiles seems to embed ActionTiles site in the iframe tile instead.