Ideas & Feature Requests

MaxVonEvil
4 years ago
in
Panels (dashboards) / Special Tiles
•
updated by Kevin1

4 years ago

•
3
Hi, I'd like to request a feature by where it's possible to bind the status of a switch device (virtual etc) to how a panel shortcut tile is presented. The use case is that I have a master panel, which breaks out into several sub panels for the house; garage, pool control, office, etc. When something is going on in a given sub panel, I would like it to light up (accent), letting me know something is out of the ordinary. I control all this with a dedicated webcore piston, keeping an eye on the status of specific devices in a given area, flipping a virtual switch,placed as a (security:read-only) tile underneath each shortcut tile, It currently looks like this: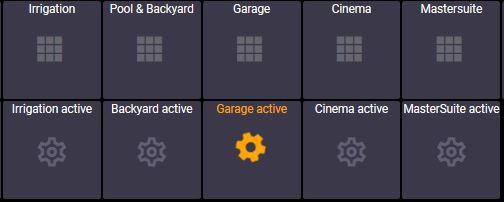 The It works as intended, however it's wasting valuable tile space.

In summary I'd love to see an option by which a shortcut tile's appearance could be modified by way of a switch.