Ideas & Feature Requests

Hello,
I noticed on a couple threads you guys mentioned Trendsetter as a good option to group lights.  I use Trendsetter and specifically the color light and light groups.  The only problem I have with it is if all lights arent the same status (brightness and on/off state) the icon changes to a ?
I know thats just the app responding because it doesnt have a valid state of ON/OFF for the button.  But the ? just looks really out of place.  I would love to see it change to the default state icon of the tile instead of the ?.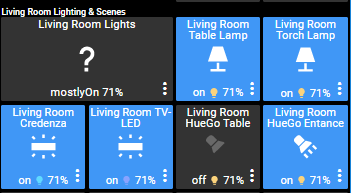 I love the app and just a request here, or if you know of any way to work around it I'd be willing to try it :)
Kudos for a great app and thanks in advance for the consideration of this