News

Major release!
This is a big one, folks...
As you know, the ability to customize Panel "styles" is a very popular wish-list item. This update only offers a few more customer-facing controls for styling; but it updates the underlying Style-Engine subsystem as a powerful new foundation for future customization abilities. You will immediately see a change in the appearance of various elements the Tiles on your Panels (and some behavior changes too). Themes have been improved and have previews. We will soon add color customization.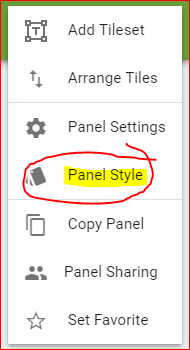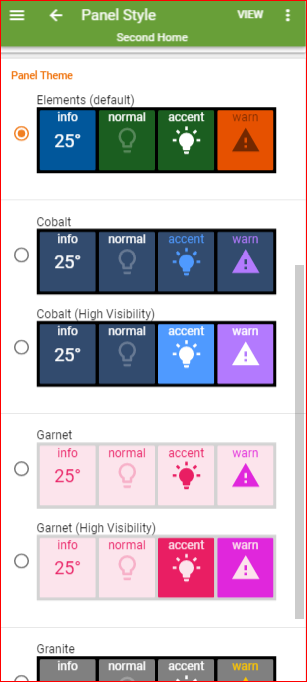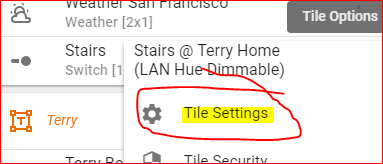 ---
ActionTiles Facelift...
All Tiles are resizable (new: weather, thermostat, music player, blank, mode).

New icon selection for Switch, Contact, Presence, Panel, Momentary Switch, Valve, Shortcut, Motion.  Halloween icons  for Switches. Boo!

Introducing "Tile Intentions". Chose individual Tile appearance based on Thing state. Chose from Info, Normal, Accent and Warn Intentions.

Preferences for Tile Size, Tile Header, Footer and Tile Content, Tile Spacer and Tile Corner Radius.

Added Panel Style Page that now contains Panel appearance preferences.

Added Tile samples to preview Panel Themes.

Added 8 new themes. New themes are High Visibility variants of existing themes.
Improved Panel Layout
Improve initial Panel drawing animation.

Improved Tile layout, fonts and icons are size optimized for viewing. Tile Content scales with Tile Size.

Tile Header and Tile Footer are now center aligned.

Panel Tile is now an anchor rather than button (improved navigation, support for right click, middle click, shift+click, etc).

Numeric Tile values are rounded off to the maximum of 2 decimal places.

Some redundant header/footer elements are removed.

Tile Overflow button pushed towards the edge of the Tile.

Improved consistency between Tiles.

Tile Spacer is applied around Tilesets.
Tile Changes
Thermostat Tiles lost Humidity value, added Fan Operating State instead. If required, humidity Tile can be added separately, because humidity is not a standard Thermostat property.

Thermostat Tile support setpoint changes by 0.5 degrees (new Tile preference).

The bottom drawer of Music Player shows controls dynamically based on current state of the player.

Battery icon in Tile footer will not display the numeric value anymore and will not be highlighted when battery is low (improves GUI consistency, aim is to make Tiles more streamlined). Users are welcome to setup a Panel dedicated to battery statuses.

Added battery icons to more Tile footers, where applicable.

New icons for CO, Motion Sensor, Momentary Button Tiles.

Added support for CO2 (carbon dioxide) Capability.

Power, Energy, Illuminance, CO2 Measurement's unit of measure is moved to the footer, because there is no space alongside the value.
Performance
Faster loading time. Reduce memory usage.

Improve Media Tile initial loading.
Miscellaneous
Removed auto-focus on input fields throughout the app

Panel Builder shows Tile dimensions.

Removed Toast Notification when changing Panel Preferences. Changes are saved transparently.

Location Viewer renamed to Location Inventory.
---
We will update various open "Bug & Idea Topics" soon if their status has been affected.

Thank-you!!!
...Terry & Alex