Questions & Discussions

Answered: Discussion Open
Henry
5 years ago
in
Configuration & Settings
•
updated by Jer Granzy

3 years ago

•
6
Apologies for the basic questions, I did search through all settings menus and also on this forum but couldn't find an answer.
In one tileset, I have a 2x2 tile followed by two 1x1 tiles. I would like the two 1x1 tiles to be in a column, as opposed to a row. As an example, in the attached screenshot, I would like the 'Posh lights' tile to be underneath the 'TV lights' tile as opposed to the right of it.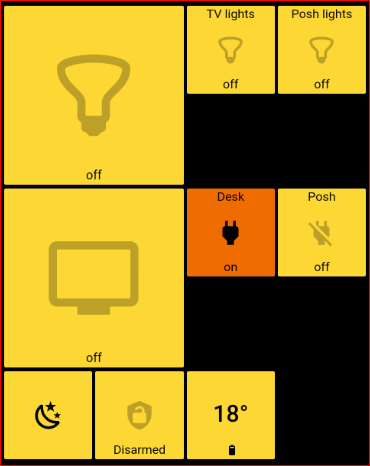 ---
Secondly, is it possible to hide the status of a switch on a tile? I.e. the 'on' or 'off' wording at the bottom of the tiles.
I am currently in the free trial time, but plan on purchasing a licence.
Thank you in advance.