Questions & Discussions

First, if this type of post isn't permitted please remove it, thank you.
I'm working on a simple application (it's free) that works like a web server for photos for ActionTiles. Basically you copy this application into a directory and point an ActionTiles Media Tile to the applications IP address.  The Application will serve up either a specific requested photo, or if you specify random.jpg it will serve a random photo from the directory.
You can also (optionally) specify different directories for different tablets etc.  So you could have vacation photos served to the kitchen tablet, while your spouse gets photos of the kids and the garage tablet shows hunting and car photos all while the ActionTiles media tile points to a single local Web URL.
Photos can be: jpg, jpeg, gif and png.
Example directory layout:

The Application Interface: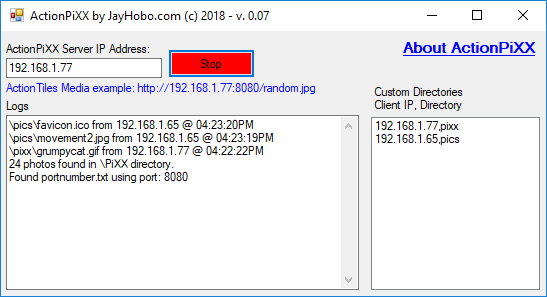 If anyone has an interest in this local photo server and wants to help in beta testing this please let me know.
I'm working on this in my spare time so response from me could be slow at times as I work full time.
What this program doesn't do:  
Slideshow the photos in sequence (they are randomly presented).
Access directories outside of its own directory.
Charge for it's use (It's beggar ware)
Have an Apple version.
Thank you,
Jay