Ideas & Feature Requests

PIN Protected Tiles are useful, and sometimes bring up multiple options like (Alarm > Armed (away), Armed (home), Disarmed). But when PIN protecting a Routine tile, like "I'm Back!" we get a banner for "PIN accepted" on top and another on the bottom that says "I'm Back! with a "RUN ROUTINE" icon.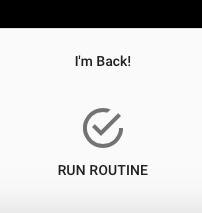 We've already told ActionTiles once we want to run the routine (by pressing on the tile), and then had 4 more touches for the PIN.
Would you consider an option (or default behavior) to simply run the routine at this point, rather than require a 6th touch by pressing "RUN ROUTINE"? (Which, doesn't actually look like a button, because it's not a highlighted mode, perhaps thanks to Material Design?)
I'm worried this will be a non-obvious last step to turn off our alarm for PIN users entering the house, since we've already gotten a message that the PIN was accepted and we can dismiss the dialog (with the X) without actually turning off the alarm.