Questions & Discussions

Answered: Discussion Open
After installing SmartWeather Station Tile into ActionTiles, it only shows: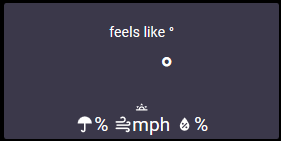 ActionTiles supposedly refreshes this Tile every 30 minutes.  However, when I go to IDE, click on that Device, then "List Events", there are never any events listed unless I click on that device in ST App and click on the Refresh icon.  Uninstalling and reinstalling that device makes no difference.

I have Weather Station 2.0 installed from GitHub, and when I click on "List Events" for that device, I see it polling for updates every 15 minutes, even when I'm not logged into ActionTiles.  So it always seems to display the current status in ActionTiles, while SmartWeather Station never does (unless I manually refresh).

Is that a known issue?