Articles

All feature requests will be considered and prioritized internally.
(Of course, bug fixes tend to get priority, especially if they impact a lot of customers and don't have a work-around.)
What is Voting For?
Be sure to use the TOPIC voting button (the one in the original post at the top of the Topic!) to allocate Votes from your "Vote Budget" (currently 10 votes per person) to your favorite Ideas and/or the Bugs that are the most important to you. Comments and discussion are welcome, but Votes are given more weight when we are doing our planning.
Votes for duplicate Topics that we "merge" are automatically combined.
Votes are returned to you when a Topic is closed (implemented, deferred, or declined).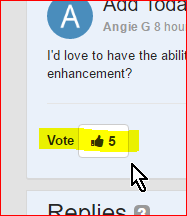 Your current "Vote Budget" is show on the right side of the Forum pages.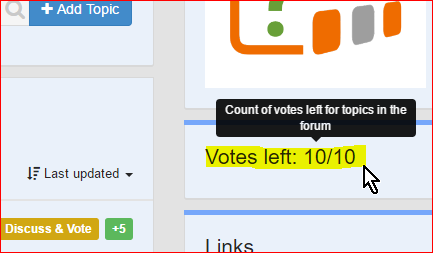 ---
We super appreciate your feedback and bug discoveries! However: ActionTiles is not obligated to accommodate any feature requests or bug fixes. We make the ultimate decisions as to what and when changes fit our design and vision of our product.

ActionTiles V6 Licenses are not "subscriptions". The License Fee is a one-time charge to utilize the ActionTiles V6 web-app subject to our Terms of Service. We strongly encourage buyers to utilize the free-trial time to ensure the app meets their needs and expectations.
ActionTiles offers no warranty, including no promises of suitability, stability, updates, new features, or bug fixes. We do not promise that additional fees won't be required for certain features or updates in the future.
We do not publish a "road-map" or "ETAs" so that we avoid making promises and imposing deadlines that we might not be able to live up to. We need the freedom to react to market changes and our own resources and research.

Please do not clutter a Feature Request with "are there any updates or ETA on this, please" comments!!! We will ALWAYS post any updates we have on the post. If the post doesn't have an update that means ... there is no news. Thank-you so very much for your enthusiasm and patience.


The only ways to possibly influence a Feature Request or Bug Fix are to:

(a) Add Votes to the Topic

(b) Add helpful contributory comments that help us understand the best way to refine and implement the request, such as creative ideas, reasons "why" you support the Feature, how badly the bug is affecting you, etc.
(c) Contact us if you have a commercial custom consulting, development or bulk purchase budget. We can negotiate pricing and other terms for customization